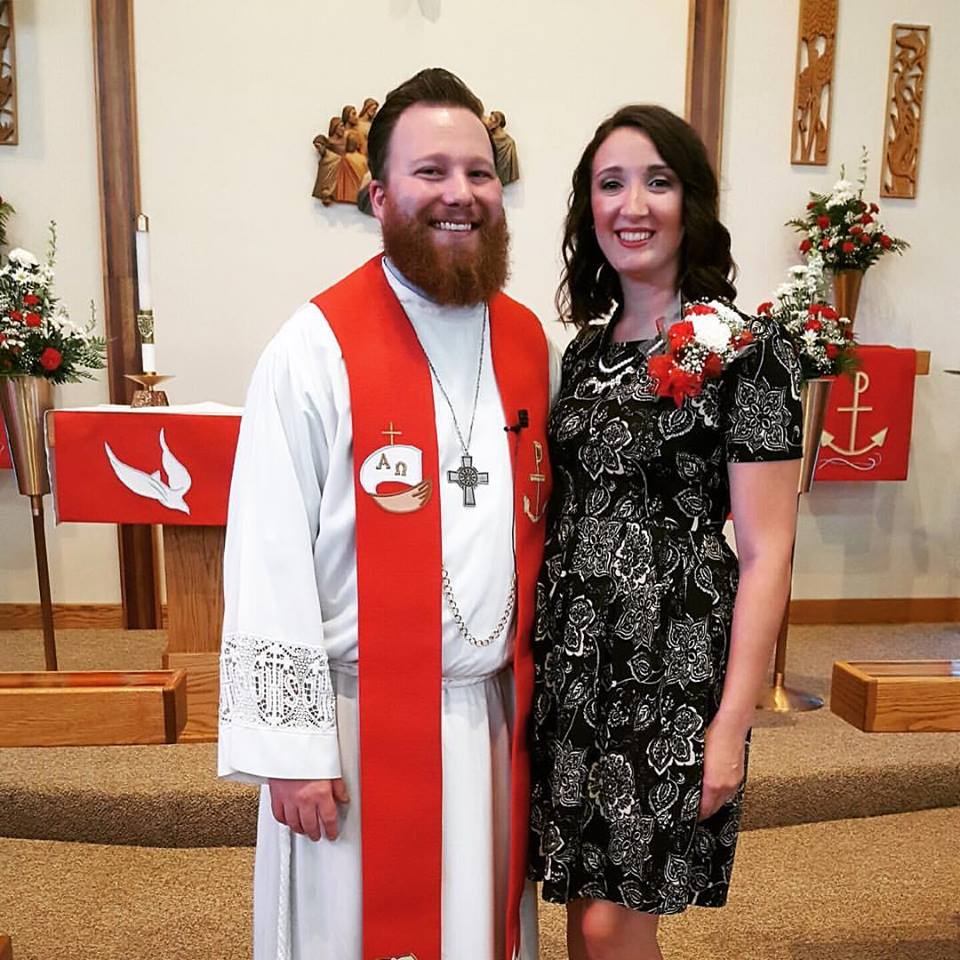 Pastor Ben Ahlersmeyer
Welcome to St. Peter Lutheran Church!
My name is Ben Ahlersmeyer and I am the pastor at St. Peter. My wife, Melissa, and I are thrilled to be serving St. Peter and the community of Portage. If you were to ask me to tell you one thing about myself I would say that I am, first and foremost, a child of God. All that I am and all that I strive to do flows from that identity. That is what we emphasize here in the community of believers at St. Peter. Our core identity, above all else, is that we are redeemed and forgiven children of God. This identity is earned for us through the death and resurrection of Jesus Christ and declared to us in our baptism. This identity is what informs how we worship, serve others, and fellowship with one another.
As a congregation of the Lutheran Church – Missouri Synod, we are committed to the unchangeable truths of scripture in our sermons and education. We value the Word of God and the administration of the sacraments. We believe that the word of God is relevant and applicable to our daily lives today. Above all, we value the preaching of the gospel of Jesus Christ and mobilizing our members to share that in their homes, jobs, and neighborhoods. We strive to be Christ's ambassadors in Portage and we invite you to come along with us!
Pastor Ben
Elders:
Lee Riley             
Jim Wells
Scott Lehman    
Claus Ackermann                                                       
Dan Rex                                                                        
Ro Guerrero                                                                 
Bill Lackey                                                                
Phil Luster-Bartz                                                   
Robbie Thaxton
Shepherds:
Donna Pleasant                                                 
Lee Riley                                                                                                                  
Jolene Wilson                                                         
Sue Lynch                                                                                                                        
Candy Gaines                                                                
Pam Hass
Carrie Chapman
Head Ushers:
Early Service-Marty Riley
Late Service-Bob Duron
President:
Brad Hughes
Financial Secretary:
Susan Lackey
Treasurer:
Sandy Barden
Trustees:
Rob Bodza
Dave Nelson
Ken Untch
Recording Secretary:
Nancy Carroll
Sunday School Superintendent:
Melissa Ahlersmeyer
Youth Leader:
Carrie Chapman
Music Coordinator:
Linda Lemond
Assistant Music Director:
Mario Samaniego
Memorials Coordinator:
Donna Pleasant
Social Ministry Coordinator:
Candy Gaines
Stewardship Coordinator:
Jen Stone
Outreach Coordinator:
Sue Lynch
Historian:
Linda Lemond
Librarian:
Joleen Wilson
Church Secretary:
If you have any general questions or would like anything added to the weekly bulletin, please contact:
Jamie Clendenin, Ministry Assistant- Office@stpeterportage.com
Church Office – 219-762-2673
Webmasters
If you would like any content added or updated on this website, please contact:
Amy Mundell – amundell713@gmail.com
Jen Stone – Jennifer12778@gmail.com